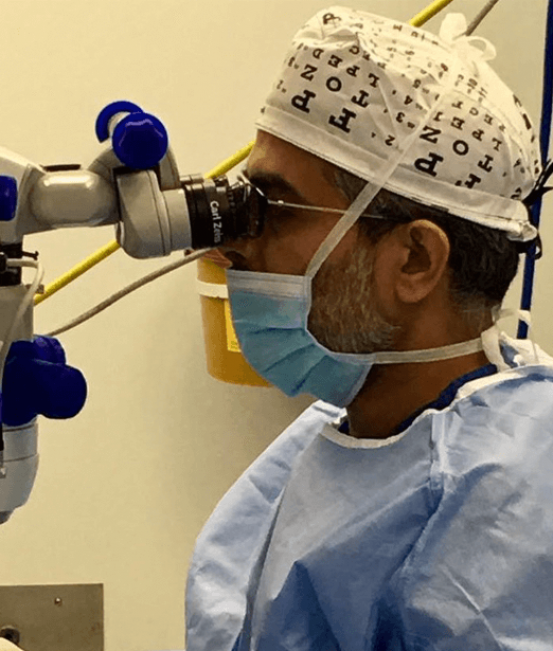 Dr Rehman Siddiqui is a graduate of Harvard Medical School, and the University of Aberdeen. He is a British fellowship trained retinal surgeon. He specialises in the medical and surgical management of retinal disorders, such as retinal detachment, diabetic retinopathy, macular holes, and macular degeneration.
He is the only fellowship trained retinal surgeon with a Certificate of Completion of Training (CCT) from the General Medical Council( GMC) of the UK, practicing in Karachi. The CCT is awarded when a doctor is assessed to have a very high standard of training in the UK, and is allowed to practice independently without supervision. Dr Rehman Siddiqui is one of the only two members of American Society of Retina Specialists in Pakistan, and the only one in Karachi.
As a retinal surgeon, he has vast experience of dealing with advanced and complex cataracts, in addition to dealing with complications of cataract surgery. He deals with premium IOLs such as Toric (to correct astigmatism), Trifocal and Panoptix IOLs.
Dr Rehman Siddiqui has performed thousands of laser procedures, including Femto-LASIK laser to remove glasses.
He is available for consultation at Aga Khan Hospital, South City Hospital and Shahzad Eye Hospital in Karachi.
Qualifications
CCT
2010
General Medical Council, London.
FRCOphth
2010
The Royal College of Ophthalmologists, London.
FRCS(Ed)

 

2010
The Royal College of Surgeons of Edinburgh, UK.
MSc (Public Health)
2005
University of Aberdeen, UK.
MRCOphth
2004
The Royal College of Ophthalmologists, London.
MRCS(Ed)
2004
The Royal College of Surgeons of Edinburgh, UK.
EXPERIENCE
Consultant Retinal Surgeon
2016 – Present

Aga Khan University Hospital, Karachi, Pakistan

Consultant Retinal Surgeon
2010 – Present
Shahzad Eye Hospital and South City Hospital, Karachi Pakistan
Vitreo-Retinal Surgical Fellow
2009 – 2010
Tennent Institute of Ophthalmology & Gartnavel General Hospital, Glasgow, UK
Specialist Registrar
2005 – 2010
Department of Ophthalmology, Grampian University Hospitals Trust, Aberdeen, UK